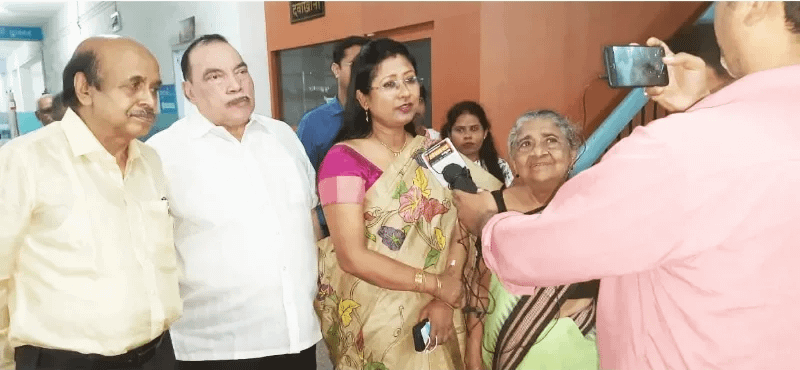 CLOSING PROGRAMME OF EYE DONATION FORTNIGHT 2022
433
433 people viewed this event.
On Thursday 8 September 2022, a closing Programme was held for the National Eye Donation Fortnight (25 August to 8 September) in Jharkhand Eye Bank, Hospital and Research Centre, run by Bihar Eye Bank Trust. Dr. Mahua Maji MP Rajya Sabha was the Chief Guest. Dr. Mahua Maji was welcomed and congratulated on becoming an MP in the Rajya Sabha. Her
work for social welfare was praised.
Dr. Mahua Maji with Dr. P. Sinha, Secretary -BEBT
Dr. Samuel Aman Toppo spoke about the significance of the Eye Donation Fortnight and pointed out the plight of corneally blind people who could only see if someone donated their eyes after death. All religions believe that doing good to others is good but some superstitious beliefs hinder eye donation such as the belief that if you donate your eyes after death, you will be born blind in the next life.
Dr. Maji with a reporter
Dr. Mahua Maji commended the work of the Trust. She was informed that eye donation is very poor in north-east India but is much more common in the South. Dr. Maji said literacy was greater in the South and that may be a reason. She said it was necessary to spread awareness regarding eye donation to village areas also. She offered to support the work of the Trust in any way she could.
Audience
Dr. P. Sinha informed her that people in villages often have no doctors who can sign a death certificate without which eyes cannot be removed. Dr. Maji agreed that this was a problem that needed to be addressed.
Dr. T. P. Barnwal gave the vote of thanks.
Touring the hospital
Dr. Mahua Maji took a short tour of the hospital. Over tea and snacks she discussed various problems in the state such as the need to increase organ donation in addition to eye donation.
Discussion over tea
Important people like Dr. Ajay Singh of RPS Hospital were present along with trustees Dr. P. Sinha, Secretary, Sri S. S. Dubey Treasurer, Sri Siddhartha Ghosh and Sri Ajay Kumar Jain with the doctors and staff of Jharkhand Eye Bank, Hospital and Research Centre.
– Dr. Pronoti Sinha, Secretary, Bihar Eye Bank Trust