Eye Testing for NTPC
210
210 people viewed this event.
A Mega Health Camp was organized by NTPC's Pakri Barwadih Coal Mining Projects, Hazaribagh on Friday, 5 August 2022. Jharkhand Eye Bank Hospital and Research Centre, Ranchi collaborated with Pulse Hospital Ranchi in this camp.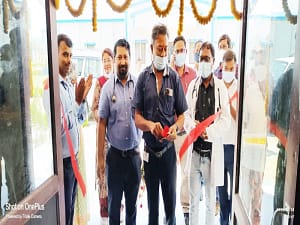 Inauguration of the camp
Patients were tested for eye defects and for pulmonary problems. Dr. Atri Mukherjee, Pulmonologist, associated with Pulse Hospital and Dr. Vinita Sinha, ophthalmologist from Jharkhand Eye Bank Hospital and Research Centre attended to the patients.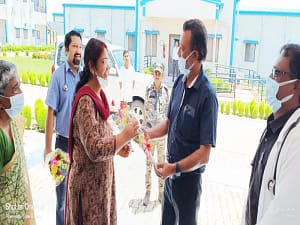 Head of Project greeting Dr Vinita Sinha
The camp was for employees of NTPC. 88 patients had their eyes examined. Medicines for dry eye syndrome, allergy and infection were distributed.
The GM and Head of Project, Mr. Prashant Srivastava, cut the ribbon and inaugurated the camp. He had his eyes examined by our doctor also.
The organizers served a delicious lunch in the lunch break.
Dr. Vinita Sinha was accompanied by Dr. P. Sinha, Secretary, Bihar Eye Bank Trust and two assistants, Sm. Punam Minj and Babita Kumari.
A memento being presented to Dr. Vinita Sinha and Dr. P. Sinha, Secretary, Bihar Eye Bank Trust
– Dr. Pronoti Sinha, Secretary, Bihar Eye Bank Trust