Free Dry Eye Camp And Diabetic Camp
319
319 people viewed this event.
DOCTOR EXAMINING PATIENT
In Jharkhand Eye Bank, Hospital and Research Centre, Bariatu Road, Ranchi, Bihar Eye Bank Trust with Ajanta Pharma organized a free Dry Eye Camp and Diabetic Camp on Saturday, 28 May 2022.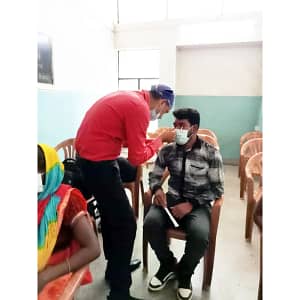 MAN HAVING DRY EYE TEST
Patients visiting the hospital were tested by staff of Ajanta Pharma and the hospital to see whether they were suffering from dry eye syndrome. Long hours staring at a computer screen or mobile phone can result in discomfort because the eye begins to lose its natural moisture. Driving a motor cycle with the wind in your eyes can also cause dryness. Symptoms are discomfort and smarting. Lubricants, or what are often referred to as artificial tears, are prescribed by the doctor in such cases.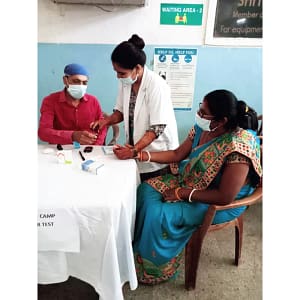 WOMAN HAVIN BLOOD TEST
Diabetes is an increasing threat in our time. This disease can affect many parts of the body such as eyes, heart and kidneys. Patients who came to the hospital were given a free blood sugar test to safeguard their health. Those whose levels were above normal were advised to consult their physicians.

>MAN HAVING BLOOD TEST
– Dr. Pronoti Sinha, Secretary, Bihar Eye Bank Trust