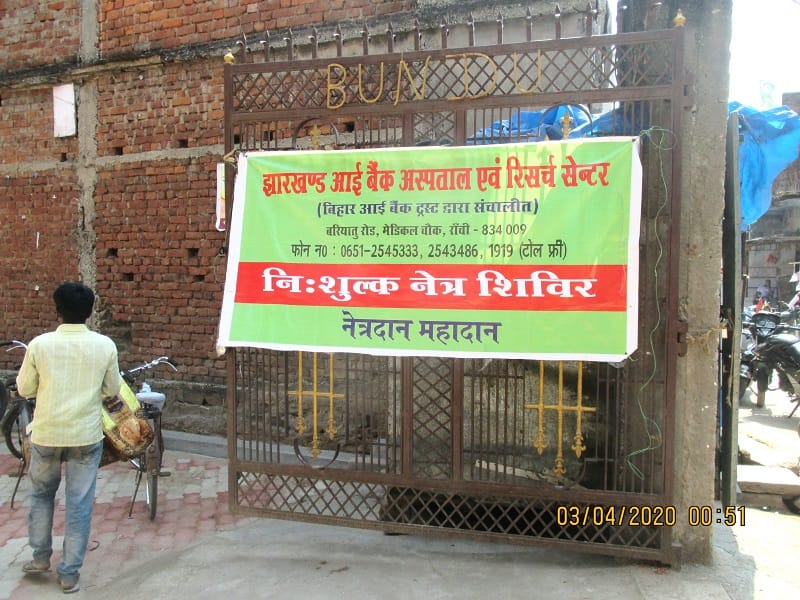 Outreach Eye Care
998
998 people viewed this event.
Outreach programs are organized to help those at a distance. Usually eye camps are held in remote rural areas where eye treatment is not readily available. Patients who attend the camp:
have medicine prescribed for their ailments or,
are advised to go for an eye check up to a hospital if they need spectacles.
Those suffering from cataract are tested for blood sugar and taken to Jharkhand Eye Bank Hospital and Research Centre, Ranchi for the operation. They, along with an attendant if required, are given free food and lodging, with free operation, pre-and-post-operational medicines and dark glasses. The operation is done the day after the camp. On the third day, the patients and attendants are returned to the site of the camp. The patients are called for follow-up one week and then one month later.
LAST EVENT
Free cataract operation camp in Bundu, Ranchi District, Jharkhand on 4 March 2020 in association with the District Blindness Control Society, Ranchi.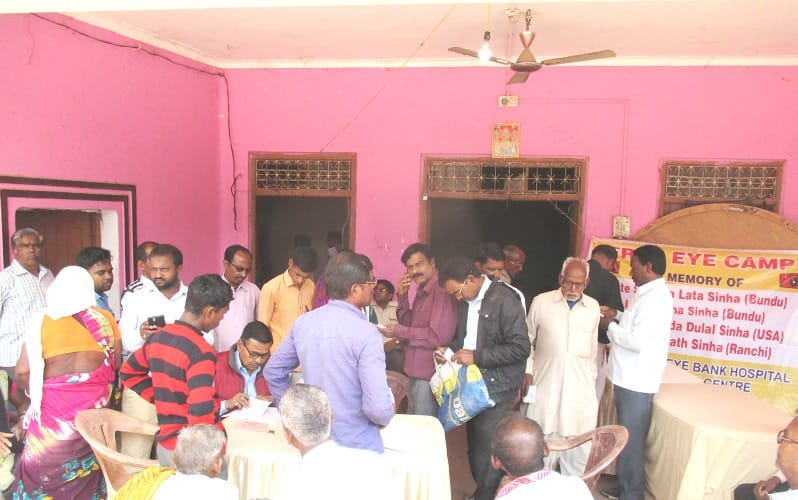 Every year Bihar Eye Bank Trust holds an eye camp in Bundu, the family home of one of our great supporters in USA. Dr. Sushant Sinha, an eminent eye surgeon, has helped us to fund equipment, camps, renovation and a state-of-the -art Operation Theatre complex consisting of 6 rooms. This camp is also held in memory of close relatives who have died in recent years including his brother Late Gopinath Sinha, who was a dedicated Executive Committee member of Bihar Eye Bank Trust.
Bundu does not have any eye hospital or good eye doctors based in the region. The Sinha family and local volunteers help to find a venue and arrange necessary furniture for the eye camp after a date is fixed. The local organisers also take care of the announcement in the nearby towns regarding the camp whether by pamphlet distribution or by loudspeaker announcements from an auto rickshaw.
On 4 March 2020 an eye camp was held in Bundu in association with the District Blindness Control Society, Ranchi. Dr. Sushant Sinha's brother, Mr. Gourinath Sinha, who lives in Bundu, took charge of the registration of the patients arriving at the camp. He was helped by another local man. When the medical team arrived from Ranchi, tables were set up for the doctor and for assistants checking blood sugar. Dr. D. N. Singh  was accompanied by Dr. P. Sinha, Secretary, Bihar Eye Bank Trust, Mr. Goutam Ghosh, hospital manager, and assistants, Mr. Mukesh Kumar Singh, Punam Kumari Minj and driver Ravi Shanker Kumar.
Patients often register their names and go off on some errand or other. When they come back, they want to have their turn immediately. Then it is sometimes a hard job to find their card out of the pile of absentees. People waiting lean over the organisers at the registration table and give suggestions and counter suggestions. It is quite a job to sort this out!
 People started assembling at the camp site from 9 a.m. The organizers noted their names, ages, and father or husband's name. The last was necessary because sometimes two people with the same name register. 149 patients were treated and 53 selected for cataract operation, out of which 45 wished to be operated. In a bus, thirty were to be taken in the first batch. The rest were operated a week later. We were happy to see that the results were satisfactory and that the patients appreciated our care and treatment.