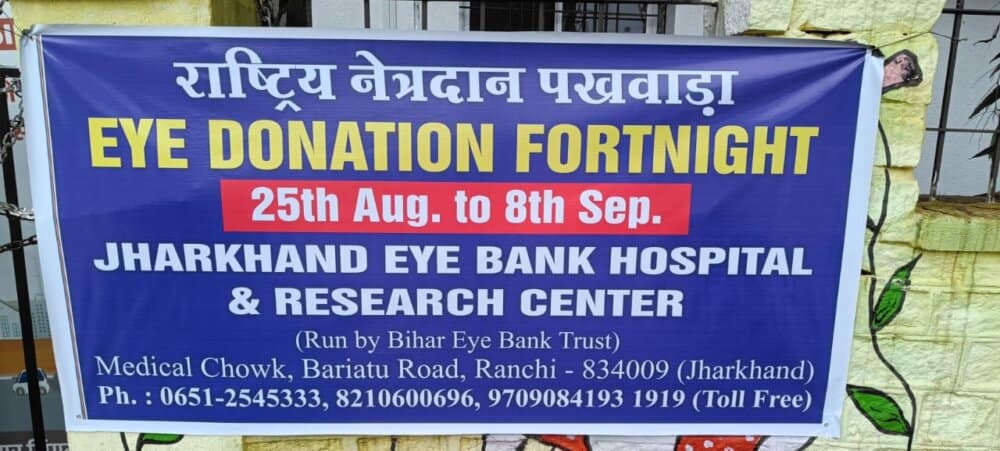 Activities during Eye Donation Fortnight 2023
93
93 people viewed this event.
Activities during Eye Donation Fortnight 2023 by Bihar Eye Bank Trust, which runs Jharkhand Eye Bank, Hospital, Ranchi, Jharkhand
25 August 2023:
Pamphlets were distributed to early morning walkers on Morabadi Maidan. Posters informing people of the Eye Donation Fortnight were hung in different parts of the city.
29 August 2023:
Eye screening test and counselling regarding eye donation in Ratanlal Surajmaull Vidyalaya, Ranchi A talk on eye donation was given, and pamphlets were distributed. 45 students needed eye checks. 25 were brought to our hospital for further investigation.
5 September 2023:
Free cataract operation eye camp in Don Bosco Youth Educational, Ranchi 12 patients were screened, and 2 operated.
6 September 2023:
Talk on Eye Donation, Lions' Club Ranchi, by Dr. T. P. Barnwal
6 September 2023:
Free cataract operation eye camp in Purani Ranchi Talk on eye donation, and pamphlets were given. 73 patients were screened, and four were selected, out of whom two were operated on.
8 September 2023:
The Closing Programme of the EDF was held in Jharkhand Eye Bank, Hospital, and Research Centre at 5 p.m. Sri Arun Kumar Singh, I. A. S. Additional Chief Secretary, Department of Health and Family Welfare, was the Chief Guest. Dr. Ajay Singh and Sri B. K. Sinha, IPS (Retd), were guests of honor. Sri S. S. Dubey Treasurer, Sri Siddhartha Ghosh Trustee, and Dr. T. P. Barnwal were present on behalf of the trust, along with Dr. Vinita Sinha, Dr. Ashish Joy Soren, and Dr. Samuel Aman Toppo. Patients operating in the camps were also present.
Ongoing:
At eye camps and school screenings, pamphlets regarding eye donation are distributed throughout the year and information is given. These activities are ongoing.
Note: We need a corneal surgeon to come and work in Ranchi as our surgeon died. We cannot collect and transplant eyes. All our equipment is lying idle. Please help.
– Dr. Pronoti Sinha, Secretary, Bihar Eye Bank Trust