Happy Independence Day
208
208 people viewed this event.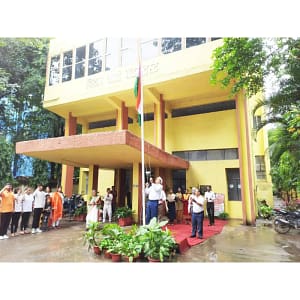 Dr. T. P. Barnwal hoisting the National Flag
AZADI KA AMRIT MAHOTSAV
15 August 2022
Azadi ka Amrit Mahotsav was celebrated in Jharkhand Eye Bank, Hospital and Research Centre on 15 August 2022.
Dr. P. Sinha, Secretary, Bihar Eye Bank Trust, welcomed children from Hi-Q International Academy who had come to sing the national anthem and other patriotic songs. The children come from this school every year to participate in our flag hoisting. Dr. T. P. Barnwal from our hospital was asked to hoist the National Flag.
Dr. T. P. Barnwal hoisted the National Flag at 11 a.m. After many rainy days, we were lucky that it was dry at the time of flag hoisting. The children sang the national anthem and shouted "Bharat Mata ki jay" and "Bande Mataram" at the end. Then they sang two or three songs for the assembled people.
Saluting the flag
Dr. P. Sinha addressed the students asking them to remember that the freedom we now enjoy was won by the sacrifice of many people. They should aim at living their lives working sincerely and honestly so that our country will become more glorious.
Dr. Barnwal spoke to the students, thanking them for singing such nice songs. He gave them his good wishes for the future.
Dr. Barnwal distributing presents to the children
At the end, gifts and chocolates were distributed to the children by Dr. Barnwal and the Trustees, Mr. S. S. Dubey, Mr. Siddhartha Ghosh and Dr. P. Sinha. The assembled staff and people shared laddus and dispersed.
Trustees distributing presents
– Dr. Pronoti Sinha, Secretary, Bihar Eye Bank Trust